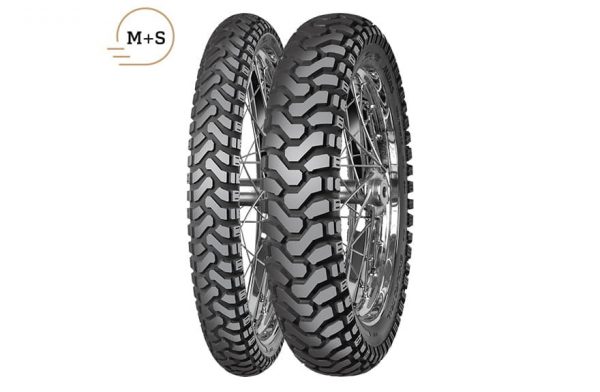 Enduro Trail (E07) (Copy)
£0.00 – £108.00
Classified M+S for 50% on-road use and designed for all-round performance and confidence on paved roads and gravel roads.
Agressive big block chevron tread pattern gives it excellent grip, stability and cornering stability even in wet Available in aHeavy-Duty version or optional Ultra Heavy-Duty version (DAKAR)designed for extended durability.
Recommended for all Dual-Purpose Adventure Touring

Description
Classified M+S for 50% on-road use and designed for all-round performance and confidence on paved roads and gravel roads.
Agressive big block chevron tread pattern gives it excellent grip, stability and cornering stability even in wet Available in aHeavy-Duty version or optional Ultra Heavy-Duty version (DAKAR) designed for extended durability.
Recommended for all Dual-Purpose Adventure Touring
For the rider that needs to go anywhere on any road with the freedom to explore. ENDURO TRAIL delivers impressive performance on paved roads and rough gravel roads and doesn't shy away from high-speed motorways or extreme off-road tracks.
ENDURO TRAIL has the same small block chevron pattern as the well-known E-07 with a flat profile and an average rear lug depth of 13 mm and a front lug depth of 6 mm which combined lead to best-in-class durability even with extensive use on paved roads and ideal choice for long distance adventure riders.
The standard ENDURO TRAIL uses a Heavy Duty compound and is designed to give the best all round performance on any road in wet or dry conditions without sacrificing comfort, durability, handling and stability.
The ENDURO TRAIL DAKAR version uses an Ultra Heavy Duty compound designed for maximum durability with upto 20% more mileage compared to the standard version and is virtually puncture proof thanks to its reinforced carcass.
The ENDURO TRAIL is the Original equipment on 2019 KTM 690 ENDURO R.
Additional information
| | |
| --- | --- |
| Size | 110/80-19 TL/TT 59H, 120/90-17 TL/TT 64H, 130/80-17 TL/TT 65H, 130/80-18 TL/TT 72H, 140/80-17 TL/TT 69H, 140/80-18 TL/TT 70H, 150/70-18 TL/TT 70H, 150/80-17 TL/TT 69H, 90/90-21 (3.00-21) TL/TT 54H |
---