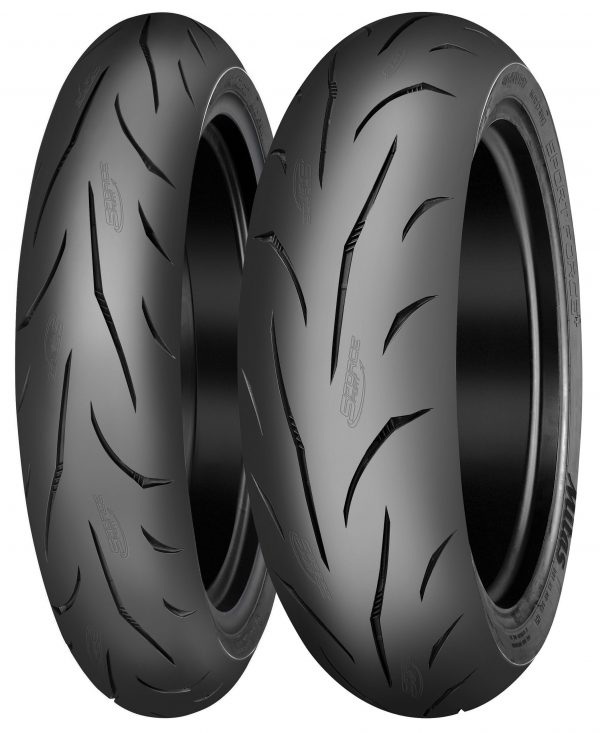 Description
New Technology
Longer Service Life

High Grip and Stability

Maximum Control

Less Overheating
SAFE, DYNAMIC AND RIDER-FRIENDLY TYRE
Immediate grip, fast and easy steering, high corner stability
Rider=friendly tyre helps steer the bike
Consistent performance through its lifetime
Special compounds have been developed f

or SPORT-FORCE +  

to guarantee the best riding performance and perfect wear balance. The combination of S-SBR elastomers, fillers, and other special additives in interation with the tread pattern, construction and reinforcement materials result in maximum road grip for varied riding conditions and optimised service life. Special additives developed by raw material suppliers ensure high level of grip at low temeratures and constant riding characteristics throughout the service life of a tyre.

Longer Service Life

Strong Carcass Technology maintains the carcass rigidity at a high level even as the tyre wears, prolonging the optimum riding performance throughout the tyre's service life.
OSCT – Optimum Steel Cord Technology – OSC technology allows defining the optimum construction of the reinforcing 0o steel cord as well as the optimum arrangement of steel cord breakers within a tyre carcass. The end result is an ideally banacned tyre, which ensures optimal contact patch between the tyre and the road surface in all driving conditions especially at greater lean angles and higher speeds.
Additional information
| | |
| --- | --- |
| Road Tyres | 110/70ZR17 (54W), 120/60ZR17 (55W), 120/65ZR17 (56W), 120/70ZR17 (58W), 140/70ZR17 (66W), 150/60ZR17 (66W), 160/60ZR17 (69W), 180/55ZR17 (73W), 190/50ZR17 (73W), 190/55ZR17 (75W) |
---