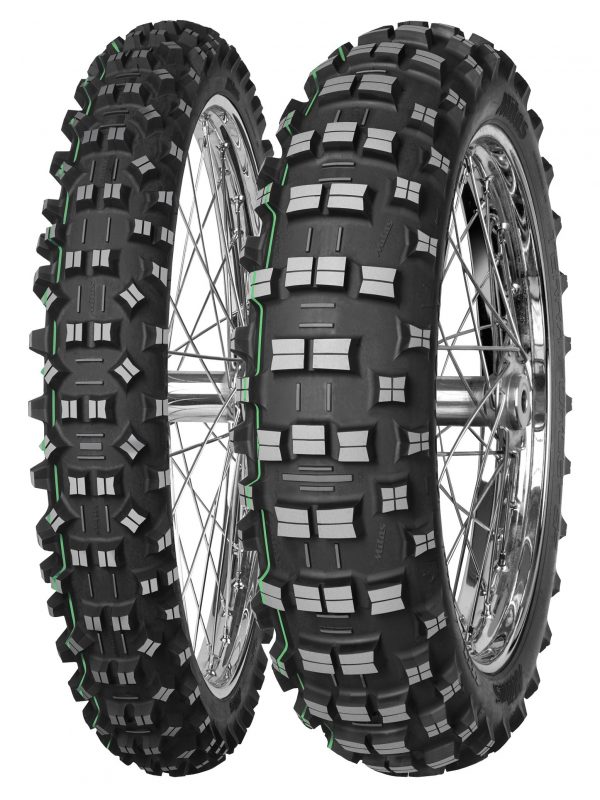 Description
The Mitas TERRA FORCE-EF and TERRA FORCE-EH feature improved performance on a wide range of off-road surfaces compared to its predecessors. A larger footprint allows better grip in various riding conditions, while spaced knobs are designed to provide great clean out ability in mud or sand.
Mitas TERRA FORCE-EF and TERRA FORCE-EH are successors to the popular and widely known Mitas Enduro and Extreme Enduro off-road tyres. The new generation has been developed and tested by professional riders in the most extreme conditions.
The Mitas TERRA FORCE- EF Super, marked with a yellow stripe, features a fibrous durable long-lasting rubber compound that ensures outstanding grip and very low abrasion even on hard terrain.  Improved compound offers greater resistance to tearing and cutting and now suited to wider range of terrains, from soft and intermediate to rocky. FIM Approved
Mitas TERRA FORCE-EF Super light, marked with a green stripe, is designed for harder enduro races. Compared to the Super version, it has a softer tread compound that ensures better adhesion and performance on hard and rocky terrain or in wet forest terrain on tree roots. Designed for the harder competitions. FIM Approved.
Mitas TERRA FORCE- EH Super soft, marked with double green stripes features an extra soft sticky tread compound for extreme enduro races. The tyre is best suited to extreme rocky, stony, wet and mud terrains. It is ideal for vertical climbs on hard enduro races and for all extreme terrains. TERRA FORCE-EH is not street legal and is only available as NHS (Not for Highway Service).
See the Terra Force EF in action  https://www.youtube.com/watch?v=k2hyLNOuz4Y
Additional information
| | |
| --- | --- |
| Size | 120/90-18 EH Super Soft Double Green Band, 120/90-18 EH Supersoft Double Green Band, 120/90-18 TT EH Super Soft Double Green Band, 120/90-18 TT Super Light Single Green Band, 120/90-18 TT Super Soft Double Green Band, 120/90-18 TT Super Yellow Band, 140/80-18 TT EH Super Soft Double Green Band, 140/80-18 TT Super Light Single Green Band, 140/80-18 TT Super Soft Double Green Band, 140/80-18 TT Super Yellow Band, 90/100-21 TT Super Light Single Green Band, 90/100-21 TT Super Yellow Band, 90/90-21 Super Yellow Band, 90/90-21 TT Super Light Single Green Band |
---