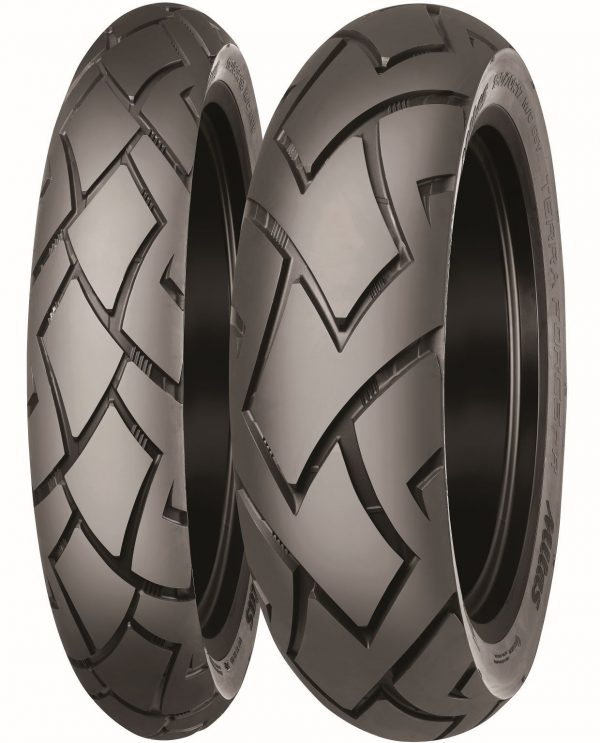 Description
The latest development in tread pattern design offers ultimate performance in all weather conditions. 
Radial dual purpose tyre with a more street orientated  tread pattern offers excellent traction on wet or dry roads. 
http://Terra Force R video.htmlTERRA FORCE-R is the ideal choice for commuters and adventurers who love longer rides on asphalt and light off-road terrain, regardless of whether they travel alone or with a pillion rider and luggage. Riders will appreciate excellent traction and easy manoeuvrability with good straight and corner stability. Its high puncture resistance and consistent performance throughout its lifetime deliver exceptional riding experience. High grip at low temperatures and on wet surfaces is supported with high silica content. The selected rear sizes feature the Multi Compound Tread Technology (MCTT): the central tread provides increased mileage while the shoulder tread ensures superior grip at all lean angles.
Technologies:
Optimal Groove 

Technology

Strong Carcass Technology

Finite Element Analysis

Optimised Block Design for great straight line stability
Designed for 90% road use and 10% off road
Additional information
| | |
| --- | --- |
| Size | 100/90-19 57H TL FRONT, 100/90-19 TL, 110/80-19 59V TL FRONT, 110/80-19 TL, 120/70-19 60W TL FRONT, 120/70-19 TL, 120/90-17 64H TL REAR, 120/90-17 TL REAR, 130/8–17 65H TL REAR, 130/80-17, 130/80-17 TL REAR, 140/80-17 69V TL REAR, 140/80-17 TL, 150/70-17 69V TL REAR, 150/70-17 TL, 150/70-18, 150/70-18 70H TL FRONT, 150/70-18 70H TL REAR, 150/70-18 70V TL REAR, 170/60-17, 170/60-17 72W TL REAR, 90/90-21, 90/90-21 54H TL FRONT, 90/90-21 54V TL FRONT |
---